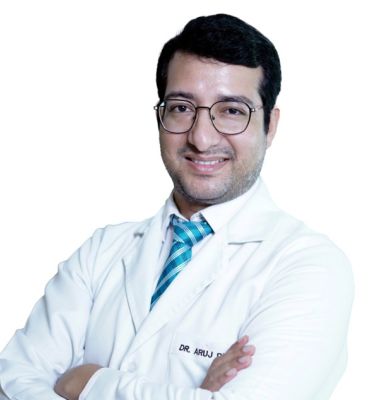 Dr. Aruj Dhyani, a Medical Oncologist, has a distinguished academic and research background. He has 11 years of experience and is well trained and experienced in managing solid and haematological malignancies in adults and paediatric patients. During his Doctorate his research was on 'Epidemiological Profile and Clinical Outcomes in Hepatocellular Carcinoma'. Additionally, at Tata Memorial Hospital in Mumbai, he researched "Peri-operative Therapy in locally Advanced Gall Bladder Cancers". He has been a part of many clinical trials during his career at various levels.
Designation: Consultant

Department : Medical Oncology
Work Experience
Consultant, Medical Oncology- International Oncology Cancer Institute, Fortis Hospital, Noida
Consultant. - Medical Oncology, Action Cancer Hospital, Delhi
Worked at AIIMS, Rishikesh, Medanta Hospital, Gurgaon and TMH Mumbai
Education & Fellowships
Doctorate of Medicine, (DM) - Medical Oncology, Gujarat Cancer Research Institute (GCRI) Ahmedabad, India
Doctor of Medicine (MD)-Radiation Oncology, Institute of Post Graduate Medical Science and Research, Kolkata, India
Bachelor of Medicine and Bachelor of Surgery, Government Medical College, Haldwani, Uttarakhand, India
Areas of Interest
GI Oncology
Hepatobilliary cancers
Book an appointment
Take a second opinion
Hi, I am online to help you!